JVC's CONNECTED CAM Studio 6000S is the centerpiece of a complete IP workflow for news, sports, worship and education. This self-contained control room features a production switcher with six IP inputs that support NDI® as well as the SRT (Secure Reliable Transport) streaming protocols along with SDI sources. Zero Config—a JVC exclusive feature—provides instant connectivity with any JVC IP camera. Instant-replays and slow motion are a snap with its intuitive touch screen display. Live stream your output to any content delivery network, while recording the full resolution program output to its internal drive. It's the ideal production tool for any professional application.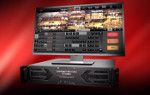 All of these capabilities in one self contained unit:
HD recording (PGM)
ISO recording (all cameras)
PGM stream recording (simultaneous)
2nd display multiview grid
Multi framerate up to 50fps / 60fps operation
True 4:4:4:4 ARGB video processing
Full featured audio mixer
Built-in encoder for live streaming
Popular streaming platforms integration
Facebook Live direct streaming integration
Main features:
Intuitive and easy-to-use touch screen user interface
6x HD-SDI input
6x IP Stream input
6x NDI input
IP video stream inputs from JVC streaming camcorders
Integrated JVC camcorder remote control
External signal ingest with keying (for PowerPoint, Keynote, Facebook, GoPro or even a smart phone camera)
1x HD-SDI video out
1x HDMI video out – PGM
1x HDMI/Display port video out – multiview or PGM
up to 1080@50/60p streaming @ 10 Mbps max
RTMP & MPEG-TS simultaneous output
Cut/Crossfade/Transitions automated switching modes
Monetizing system with advertising statistics
Internal character generator with templates
4 layers of DSK — CG/images/animations with transparency
Instant, unlimited video clips playback — No transcoding!
Unlimited playlists — Media management/playout
PIP and Split screen layouts
Replay and Slow Motion:
Multi-channel Instant Replays with Slow-motion
Replay matrix playout system with playlists
Dynamic replay camera switching
Sequential replay playback
Freeze frame in replays
Replay lead in/out animations
Ingest on/off Automation in replays
Multi camera Synchronization
The KM-IP6000 is equipped with multi-camera synchronization, Network Time Protocol synchronized encoders.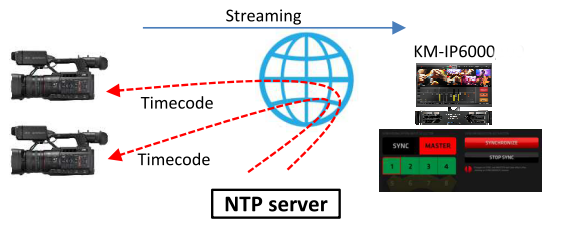 Advanced streaming features: Return over IP, SRT
The KM-IP6000 uses return video/IFB while streaming live to air via IP thanks to a new platform. This allows reporters and camera operators to wirelessly receive directions from the station .
The KM-IP6000 is dynamically adjusted for optimal stream performance and quality. SRT decrypts the stream and enables recovery from packet loss typical of internet connections.